LUNCH N' BID 2023
June 4th at the George Washington Hotel, only 125 tickets being sold!
Our fun event includes…
The Sonny Shiley Volunteer of the Year award presentation
50/50 drawing
Lottery Tree Raffle
Over 75 silent auction items
A live auction featuring a Eugene Smith print, A night at the Country Inn & Suites + $40 to the Alamo, A wine basket with wine tastings, and more!
Doors open at 11:30 a.m.
Silent Auction: 11:30-1:30
Cash Bar & BBQ Lunch: 12:15
Live Auction: 1:30
Tickets are now available for purchase! $35.00 per ticket
The Adult Care Center is the only organization in the Northern Shenandoah Valley exclusively dedicated and licensed to provide a day program for adults impacted by conditions affecting memory and independence. The Center has pioneered an approach to client engagement, health monitoring, and caregiver support that has been defining the nature of personalized adult care in the area since 1998.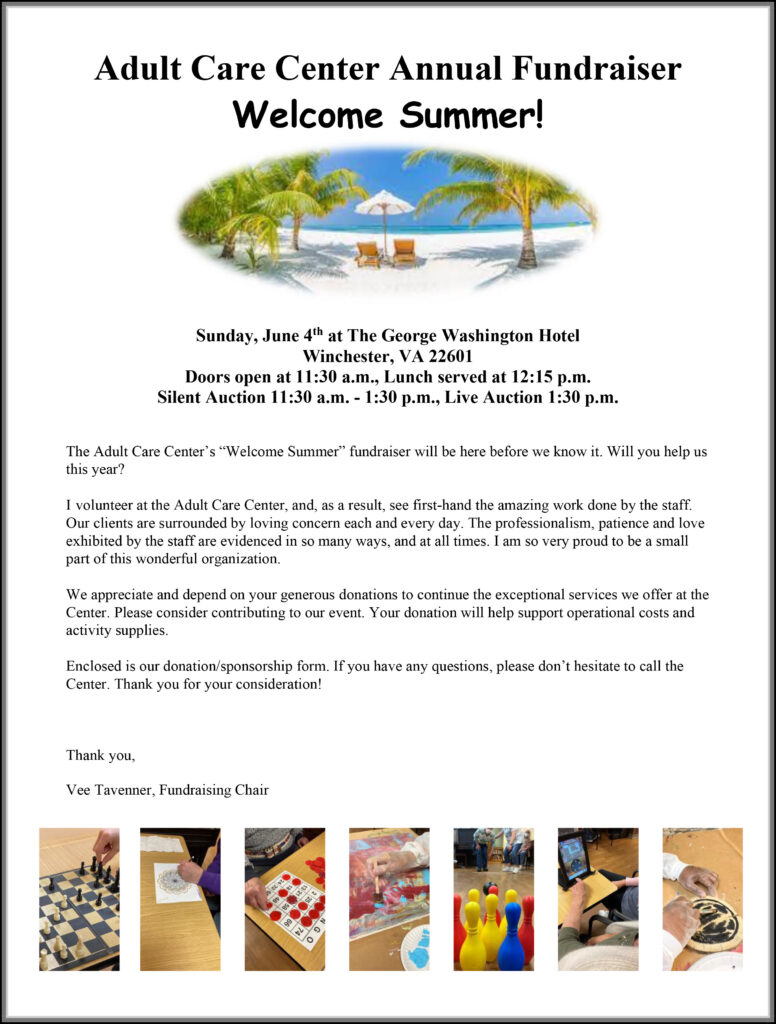 SPONSORS AND DONORS
A – H
Auto – Tech Service Center, INC., Bank of Clarke Foundation, Bell's Fine Clothing, Bonnie Blue, Glen & Kim Burke, Carrabba's, Carroll Construction Co., Chick-Fil-A, Mary Ellen Clark, The Colson, Booth and Stryker Families, Costco, Damon & Nancy DeArment, Janna DeArment, Eugene Smith, Hand & Stone Massage and Facial, Hideaway Cafe
I – P
Insurance Center of Winchester, Joan Lewis, Rosalie Lewis, Longhorn Steakhouse, Loudoun Mutual Insurance Company, Scott Jack, L'Auberge Provencale Bed and Breakfast, Mary Ellen Clark, Milam Landscapes & Design LLC, Museum of the Shenandoah Valley, Nerangis Management Corporation, Sheila Pack Real Estate
Q – Z
Rosalie Lewis, Saumaj Spa at the George Washington, Shenandoah Summer Music Theater, Jeannie Shiley, Linda Shimer, Chris & Diane Shipe, Target, Texas Roadhouse, The Portrait Lady – Merissa Hill, The Wine Room, Topgolf Loudoun, Vee Tavenner, Tyson's Automotive, Jim & Jane Vickers, Violino's, Wilkins Shoe Center, Winchester Book Gallery, Winchester Parks & Recreation, World's Away Escape Room, Jennie Wright